< Back to News
M&As
update:

what's

the

latest

following

Discovery's

merger

with

WarnerMedia?
In May 2021, Frame 25 reflected on the huge industry news at the time: AT&T's announcement of a huge deal to spin off its media content division, WarnerMedia, and merge it with Discovery to form "a new global media superpower to take on streaming services Netflix and Disney+".
The merger was closed in April 2022.
The
deal

But what's happened since – both in terms of the new standalone company and in the wider context?

Where/how does BT Sport fit into all this?

And speaking of the wider context, what's behind the return of former CEO Bob Iger to Disney?

And are the streaming giants ripe for some kind of change?

We look at all those questions here, starting with:
What's
happened

since

the

Warner

Bros.

Discovery

merger?

Warner Bros. Discovery wants to make "synergy" savings of around $3.5 billion between April 2022, when the merger closed, and 2025. Thousands of staff have left the company and content has been written off as a result, including the cancellation of hit series such as HBO's Westworld.

Writing off or cancelling content is a practice Warner Bros. Discovery CFO Gunnar Weidenfels believes will be replicated by other major players, as they too reflect on "an industry that went overboard, that went on a spending frenzy". Read more on content cancelling below.
Sport's major role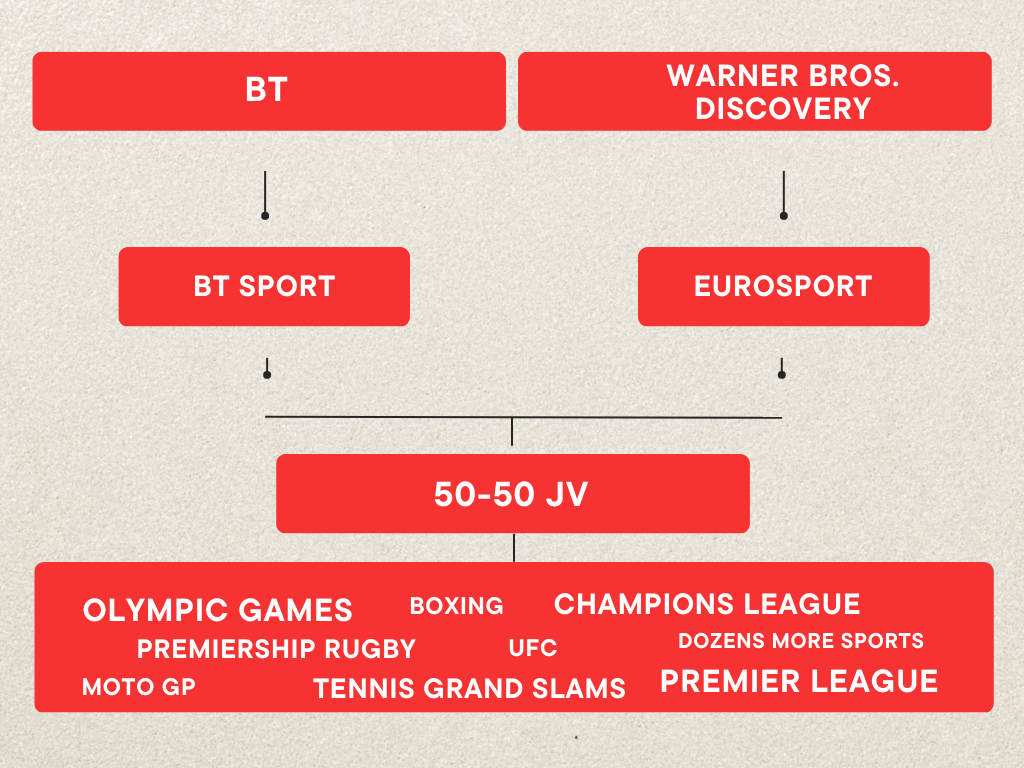 Live sport emerged last year as a key battleground among the largest streaming companies, who acknowledge it's a solid draw for audiences.
A few weeks after the Warner Bros. Discovery deal closed, another big merger was announced: Warner Bros. Discovery had agreed a deal with BT to merge Eurosport UK with BT Sport in a 50-50 joint venture.
The deal was announced formally in September and, in a press release, the companies said BT Sport and Eurosport will "retain their separate product propositions for a period of time", with the intention to "launch a new sports brand in the market and present this combined sports offering together with an entertainment offering from Warner Bros. Discovery."
Warner Bros. Discovery, through its subsidiary Eurosport, holds the European broadcast rights for the Olympics, and said its coverage of the Tokyo 2020 Games helped it attract a record number of new subscribers.
BT Sport, meanwhile, holds the rights to leading football competitions including the Premier League, Champions League and Europa League, as well as Premiership and Champions Cup rugby, and a number of other top-level sports.
Recent reports however suggest more than 200 BT Sport staff who have transferred to the joint venture are at risk of redundancy, which is the result of BT Sport's lease expiring on offices in Stratford, East London.
Away
from

sport,

have

HBO

Max

and

discovery+

continued

separately

or

been

combined?

The initial plan was to merge HBO Max and discovery+ into one streaming service. Warner Bros. Discovery had said streamlining its offering made sense for the company and consumers, given how crowded the marketplace has become.

But, while Warner Bros. Discovery will later this year launch Max, a new streaming service, discovery+ will remain. Rather than combining HBO Max and discovery+ in their entirety, the new platform will feature HBO Max content and most discovery+ content.

The decision has reportedly been made in an effort to avoid losing a large number of discovery+'s 20 million subscribers, many of whom may not be willing to pay the increased subscription cost that will come with Max.
A
new

focus

The focus for WBD, as it is for most other media companies, is on profitability rather than growth.

Amazon Prime and Apple TV+ have been pursuing more expensive sports rights while raising their prices. Paramount+ and Showtime are merging.

WBD appear to be pursuing content licensing to secure profitability: the company has agreed deals with Roku and Tubi to license 2,000 hours of movies and TV series. Selling content, meanwhile, is also reportedly under consideration, as WBD explores a sale of its music library which could be valued at more than $1 billion.

The drive towards greater profitability appears to be the motivation behind the company cancelling Batgirl, a $90 million film which had already been completed, reportedly as part of a tax write-down strategy.
What
about

cable?

As for the Discovery and WarnerMedia cable networks, president and chief executive officer David Zaslav said last year:

"If we lost a million [cable] subs, all we have to do is pick up 650,000 [Discovery Plus] subs in order to be making more money. That's one of the reasons why we're investing in discovery+."

A recent report tells us the new company's programming executives are editing HBO content for cable viewers, and will monitor audience figures before deciding on long-term scheduling strategies.
Away
from

WBD,

Disney's

Iger

returns

Last November, Disney – facing growing losses in its Disney+ division – sacked its CEO Bob Chapek, after less than three years in charge and losing almost a third of its value. Disney reinstated the previously retired Bob Iger, who is 72.

During Iger's initial tenure as CEO, Disney made several key acquisitions, including Pixar Animation Studios, Marvel Entertainment and 21st Century Fox, and boosted its market capitalisation five-fold.

In fairness, Chapek, who took charge in February 2020, was faced with the pandemic which led to park closures and visitor restrictions.

Disney's prime streaming service, Disney+, hasn't yet delivered a profit since its 2019 launch, and has just reported its first subscriber loss – of 2.4 million. The company plans to lay off 7,000 employees.
The
outlook

for

streaming

in

2023

Where does streaming go from here?

Free ad-supported TV (FAST) offers a more affordable alternative, and signs point towards this format growing in popularity among viewers and media companies.

Audiences are reducing their spends on streaming in 2023, while a number of FAST options are establishing themselves in the market.

Franchises will also be key. Popular content will play a significant role in helping media companies focus on profitability and subscriber retention. According to Dan Robbins, the vice-president of ad marketing at Roku, "Franchises have always been great fodder for box office sales. In the streaming era, when each new release comes with an opportunity to activate the library, they take on new significance."

And sport will continue to play a significant part as the biggest SVOD companies, including the new Eurosport UK/BT Sport joint venture, consolidate and battle for subscribers.

We shall keep a close eye on how things progress in 2023.